IT. IS. HOT. We've got plenty of reasons for you to come cool off with an ice cold beer. Lucky for you a lot of them are FREE:
-
GO TO THE BEACH! If you can't get that close to the sand go to the
first Getty show of the season this Saturday
to hear the rustic rock n roll from
Jonathan Wilson
and feel the Ocean breeze.
-
The
Monday

co-residency
with
The Mercy Beat
and
In The Valley Below
has been doing quite nicely but it's missing your shining face! All the bands are really good and you should check it out for yourself instead of just hearing us go on about it! This week we have the post-punk upbeat jerky groove of
bikos
opening and
StaG
closing. It's so surprising to us that more people aren't raving about
StaG
's blissed out guitar blaze!
And holding their own with enough hit songs that could fill any radio stations playlist, our two co-residents:
MERCY BEAT
and
IN THE VALLEY BELOW
. It's free and the beer is cold... what's the excuse not to go?
-
Superhumanoids are coming back to Echoplex
on

May 23

FOR FREE courtesy of Vans and IAMSOUND. Just RSVP to rsvptovans@gmail.com and you're set!
- Every

Sunday

afternoon in the Echo we have
Grand Ole Echo
! Totally FREE, all ages, $4 beers and $6 rum drinks from

3 - 5pm

, bloody marys, and a killer patio vibe. Plus, it's gotten even better with BBQ RAY out on the patio serving up cheap and irresistable bites. Come say hi and eat some meat! #BBQRay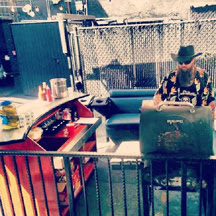 - And keep those

Thursday

evenings FREE because the
Twilight Concert Series lineup
at the Santa Monica Pier should be revealing itself soon...
Lastly don't miss these three shows next week!
There's something in that rain water in Portland that creates beautiful ethereal folk that shimmers despite those grey skies.
Wake Owl
channel some Beach House-ness but the duo still creates layered orchestrated pop all their own. BONUS!
Mimicking Birds
will fill the Echo with music that waltzes, careens, and soars on
Wednesday May 21
.
There are three things that people can say about
frontman Ethan Miller from Howlin' Rain
: 1) he has a great smile 2) is one of the nicest/coolest dudes you'll meet 3) his band of heavy psychedelic guitar twisters and turners create a mind blowing beautiful noise -- and Ethan is there in the front growling out vocals and commanding the stage with such intensity you pretty much can imagine yourself at the Fillmore in '67.
We're sold
.
And we have a
show next week that should make parents nervous and kids happy
; think of it as an evening with bad babysitters and their unruly charges. 70s inspired pop-punk from
Potty Mouth
who manage to be sassy, bratty and endearing all at once.
Perfect Pussy
is like the loud brash big sister that takes charge and will pummel you if snitch on her smoking cigarettes. It's post-hardcore in female glory with chaotic wound up songs that stop abruptly. Plus opening are our favorite brothers,
The Bots (Mikaiah Lei and Anaiah Lei)
who are just so happy blasting their brand of garage/punk mixed with American blues -- it is infectious. Let them skateboard! Let them stay up late! Let them have a blast playing music way too loud!

See you soon and stay cool out there.
JUST ANNOUNCED
UPCOMING SPACELAND SHOWS